You may have noticed I've been quite busy here. I've been talking up the Kindle Exclusive release of Poseidon and Cleito from EDGE Science Fiction and Fantasy, and now I'm switching gears to let you know about another title, just released today at retailers worldwide by Bold Strokes Books.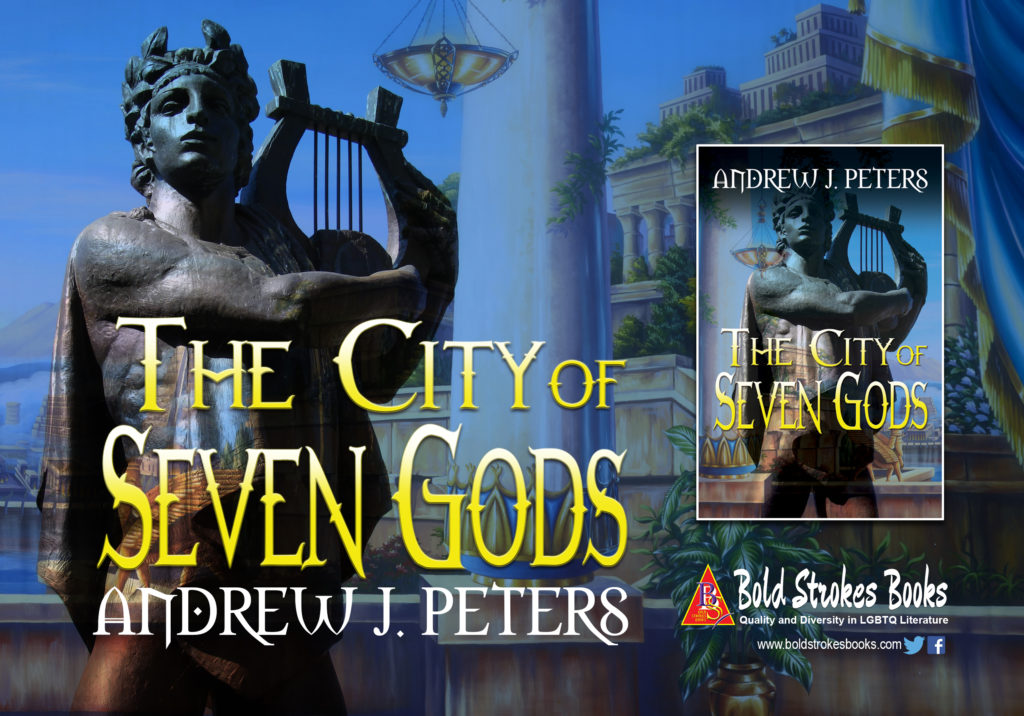 How about that? It's a big month for me, and I'm doing my best to keep up with it!
I wrote The City of Seven Gods as somewhat of an adult companion piece to The Seventh Pleiade and Banished Sons of Poseidon. The setting is similarly ancient world, though the sources of inspiration roamed a bit farther, and farther back in history, to Egypt, Mesopotamia, and Africa.
The story is also a departure from the Atlantis legend, which may come as a surprise (yes, I do write about other things besides Atlantis from time to time). I was inspired by the grandness and religiosity of the great cities of the ancient world like Ur and Babylon and Alexandria, and I wanted to expore what life may have been like during a time of nascent, cosmopolitan living, lavish religious iconography, and huge divisions between the rich and poor. The story follows two men of minor status finding their way through that world.
Here's the back cover blurb:
Kelemun was bought from his peasant parents to tend the inner sanctum of the house of Aknon, where wealthy men pay mountain sapphires to behold the beautiful servants of the god. Chosen to bring offerings to Caliph, Kelemun captures the fascination of the young prince Praxtor who has never been denied anything his heart desires.
Ja'bar was hired to roughhouse wayward proselytes for the high priest Aknon-Horheb. In Qabbat'lee, it's good paying work for a Stripeling, a jungle savage in the eyes of the city natives, and if he's stingy and stays out of trouble, it will buy him a plot of river land.
But the splendor of Qabbat'lee is a mirage disguising a grotesquerie of corruption. When Kelemun and Ja'bar's threads of fate entwine on a night of chilling betrayal, their only hope for redemption and survival may lie in one another.
The City of Seven Gods kicks off a new series called The Lost Histories, which will chronicle the lives of an ancient people in a world where men are bought and sold, religious cults vie for wealth and power, and civilizations clash. I'm presently tucking into the manuscript for Book 2. All this month look for giveaways and inside-the-story features here and at blogs like Queer Sci Fi and The Novel Approach. And, if you want to pick up the book right away, I posted the handy buy links below. When you buy at the publisher's webstore, you can bundle your purchase for extra savings.
Share on Facebook