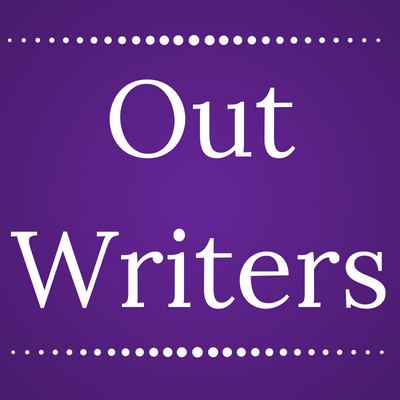 It's LGBT Pride month so you can expect things to be a little gayer than usual around here.

Cleis Press, an independent queer publisher, launched the #OutWriters campaign on Twitter to "celebrate the importance of LGBT writing." Sounded like a damn good idea to me. My publisher Bold Strokes Books has joined in, along with many LGBT/queer authors from the U.S. and beyond. It has inspired some awesome testimonials as well as a nice run of light-hearted humor and generalized frolic.
The idea is to tweet something about why you write LGBT fiction, or why it's important to you. Here are some of my favorites so far this month.
Why do I write queer stories? Because if we don't, who will? #OutWriters

— Jeffrey Ricker (@rickerje) June 4, 2014
Because 'The Night We Met' by @RobByrnesWriter was the only time I'd laughed in days after coming out and losing everything. #OutWriters

— Nathan Burgoine (@NathanBurgoine) June 1, 2014
Writing honest stories means something: I came out thanks to the M/M genre http://t.co/Qi83g3KOtm via @InkAddict89 #OutWriters

— Lloyd Meeker (@LloydAMeeker) June 4, 2014
I wrote HEATHER HAS TWO MOMMIES in 1988 so that kids with two moms would have a book that validated their lives. #outwriters #kidlit

— Lesléa Newman (@lesleanewman) June 4, 2014
I don't always believe in "write what you know." But when trying to bathe readers in all five senses, I work with my strengths. #OutWriters

— Gavin Atlas (@GavinAtlas) June 4, 2014
I write queer historical fiction because LGBTQ people have always existed. I want to imagine& tell those tales. They're ours too #OutWriters

— Rebecca S. Buck (@rsbuck) June 3, 2014
I write 'cos I knew I couldn't be the only one; maybe it'd help someone else know that, too-and it has #OutWriters

— JD Glass (@JDGlass) June 3, 2014
You have to read the book to get all that loving goodness. #TheColorPurple #OutWriters

— Tenille Brown (@TheRealTenille) June 3, 2014
I write what I write because every story needs a sarcastic lesbian #OutWriters

— Barbara Ann Wright (@zendragandt) June 2, 2014
Because "this character might have been queer," is an afterthought, not inclusion. #OutWriters

— Laura Antoniou (@LAntoniou) June 2, 2014
Because queer stories deserve to be told every bit as much as hetero ones #OutWriters

— Eva Gantz (@EvaGantz) June 2, 2014
Because we're just as interesting, if not more than everyone else #OutWriters

— Adrik (@shadowadrik) June 1, 2014
And of course, here's one of my own I like a lot.
I write LGBT fiction because some gay boys do amazing things like solve ancient world, diabolical mysteries #OutWriters

— Andrew J. Peters (@ayjayp) June 3, 2014
Share on Facebook