In the movement to stop gay bullying and suicide, there have been video campaigns, efforts to change school policies, and many powerful stories—both courageous and tragic—that have brought attention to the treatment of gay students.
Doing their part are Charles "Zane" Christensen and Mark Brill, a writer/artist team from Northwest Comics, who created The Power Within.
The comic focuses on Shannon, a shy, artsy kid who dresses and acts differently from his peers and gets teased and threatened for it.   Making things worse, his parents and teachers blame him for the bullying.   They say if he didn't behave so strange, he wouldn't bring it on himself.   Shannon is scared, alone and at a dangerous breaking point.
But in his imagination, he has a superhero alter ego who can stand up to the bullies and give back what they're giving.   It's a fantasy that gets Shannon through the day, but as his torment at school escalates, he faces the question:   will it be enough to survive?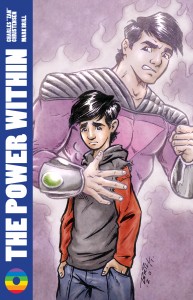 According to Christensen, the goal of the comic is to send a positive message to bullied teens.   While bullying and suicide are complex issues, Christensen believes The Power Within can make a difference to kids who feel like outcasts and may be on the verge of doing something desperate.
The series is dedicated to Rutgers University Freshman Tyler Clementi who took his life after classmates distributed a secret video of him making out with another boy.   Way too many gay teenagers face such situations of humiliation and harassment, and Christensen says that—while support from caring adults helps—often the solution is kids finding the personal strength to be who they are.
It's a good approach that is backed by social science research.   Gay men who are self-accepting are less likely to attempt suicide, or to encounter problems such as unsafe sex or drugs. Self-acceptance ultimately comes from "within," but environmental influences can have an impact, including positive examples of LGBTs in the media.
Christensen wants to get The Power Within into school classrooms and libraries so that as many young people as possible can access it.   He's acquiring donations—big and small—to cover the cost of printing so kids can get them for free.
He's set the goal of raising $3,000 by May 20th, and you can help by visiting his page at Kickstarter.
On another front, activists are battling regressive school policies that make it even harder to address anti-gay bullying.
The Tennessee state legislature is pushing through a bill that requires public schools to refrain from discussing homosexuality. Dubbed the "Speak No Gay" Law, the legislation—championed by state senator Tracey Campfield (R)—is insidiously positioned as a "neutral" policy on homosexuality, allowing parents to decide when (or if) they want their child to learn about diversity.   But if the school's policy is gays do not exist, how do they deal with gay kids who are getting bashed?
So much could be said about the absurdity and wrong-mindedness of the law.  But instead, I'll share the inspired campaign to fight it.
Started as a media project to repeal California's anti-gay Prop 8, FCKH8.com created a very clever and entertaining response to Tennessee legislators.   Every time you tweet or Facebook the video, 25 cents will be donated to the Tennessee Equality Project which promotes LGBT rights.
Here's the video.
Fuck  fuck  fuck.   Gay  gay  gay.   See:   it's fun!
Share on Facebook