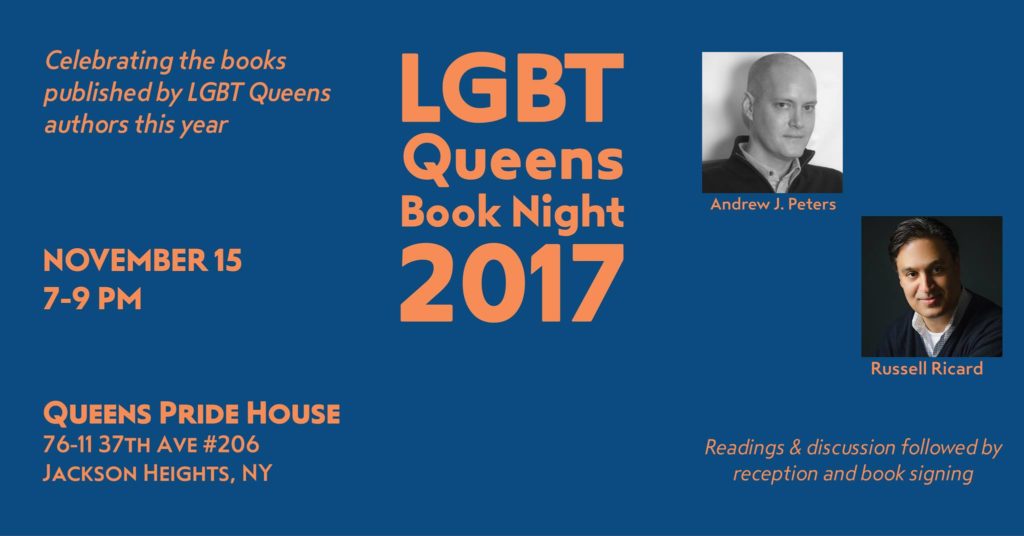 I'm really happy to be featured in this year's LGBT Queens Book Night next Wednesday, November 15th at Queens Pride House in Jackson Heights. The annual event showcases local authors who have recently published fiction, poetry or non-fiction, and brings together writers and readers in the LGBT community.
I'll be joined by Russell Ricard, author of The Truth About Goodbye, and a resident of Forest Hills. Fun Fact: we're both married with cats. (Not married to cats; that was supposed to be a play on 'married with children').
So what can you expect if you come out to the event? Unbridled literary mayhem. All right, that's probably promising a bit more than we can deliver. But from past events, I can tell you that it's a great, laid-back, homegrown event that gets a fairly equal number of writers and fans who are enthusiastic about LGBT literature as well as local pride. Did you know best-selling author Robin Cook grew up in Queens? And Patricia Highsmith. I won't mention the borough's most notorious offspring because we're not exactly proud of him, nor does he qualify as literary. (ugh)
The panel will be moderated by community activist Demetrius Bagley and you can RSVP, see directions, a little more info over at the Facebook event page. I'll be reading from The Sim Ru Prophecy and talking about the Werecat series and the role of LGBT writers in the era of resistance, among other things. I hope you can check it out!
Share on Facebook