I attended the Killer Nashville International Writers' Conference this past weekend, and I return with some pretty darn amazing news.
The City of Seven Gods won a Silver Falchion for Best Book of the Year, Horror and Fantasy!!!
I'll remember the awards dinner forever, sweating it out as the program approached my category, the surreality of the announcement with my book on the big video screen, sharing the moment with my fantastically supportive husband, and adlibbing a short acceptance speech, which I really should have given more thought to!
Here's what the Silver Falchion looks like.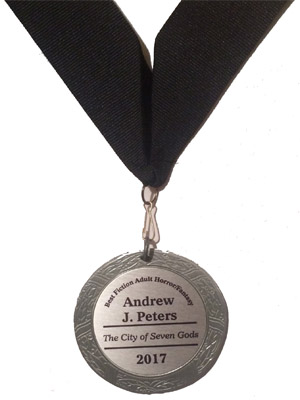 And here's what I looked like up at the podium.
Since 2008, the Silver Falchion awards recognize outstanding new titles by authors whose work incorporates elements of suspense, thriller, and mystery. Some of the other winners this year include Kathyrn Lane (Waking Up in Medellin) for Best Fiction Book of the Year, J.A. Jance (Clawback) for Best Adult Thriller, and Randall Reneau (The Medinandi License) for Best Action Adventure. The 2017 awards program also featured the presentation of the John Seigenthaler Award to graphic novelist and author Max Allan Collins (Road to Perdition).
I've described The City of Seven Gods as somewhat of an adult companion piece to my young adult Atlantis series (The Seventh Pleiade, Banished Sons of Poseidon) in that it explores the same sort of ancient world mythology and folklore but takes on some grittier themes. All of my titles are special to me, though in some ways, the recognition The City of Seven Gods has received is particularly meaningful. I took some chances with portraying sensitive themes like temple prostitution and slavery and really pushed myself in developing the two main characters' voices, Kelemun and Ja'bar. I'm so happy that the result has been well-received, and I thank Bold Strokes Books for believing in the book, my super editor Jerry Wheeler for helping to make the manuscript shine, and to my family, friends and readers for believing in me as well.
And here I am with the Silver Falchion when I got back to NYC on Sunday.
The event was a quick trip for me by necessity, and I had a great time on Saturday as a panelist for the morning session: "Go There: Writing Protagonists Who Bring It," as well as attending the lunch program featuring Max Allan Collins and the afternoon breakout sessions. I met some really fabulous people, and I have to give a shoutout to Joseph Terrell (author of the Harrison Weaver mysteries) and January Kerr (The Patriarchy Project) who I really enjoyed getting to know.
I'm basking in the glory for a short while. Genaro and I are also taking a trip to one of my favorite cities Montréal this upcoming Labor Day weekend as a sort of awards and birthday celebration. But I expect to be back to work on the follow up to The City of Seven Gods really soon.
Share on Facebook