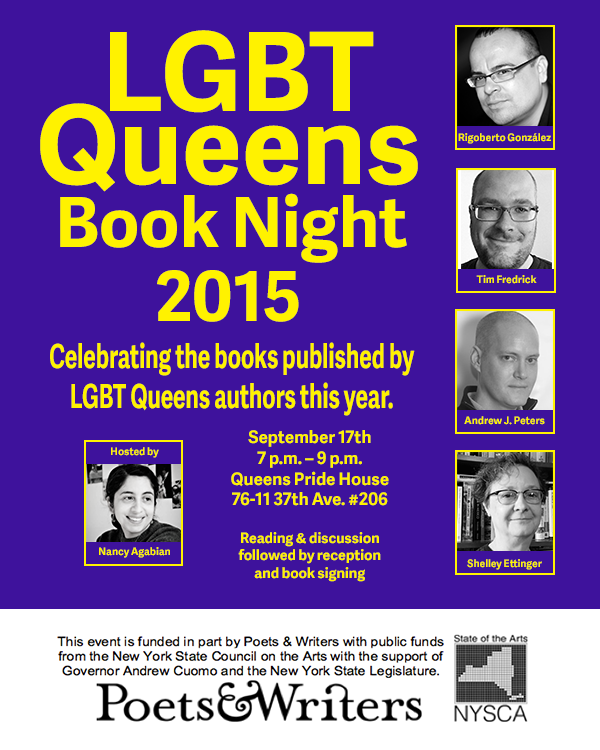 I'll be out and about for a reading event this month. Tim Fredrick of Newtown Literary Journal was nice enough to invite me to participate in LGBT Queens Book Night. The event features four Queens-based authors who have new releases in 2015.
Here's some information about the line-up.
Andrew J. Peters is the author of the Werecat series, The Seventh Pleiade and its forthcoming follow-up Banished Sons of Poseidon. He grew up in Buffalo, New York, studied psychology at Cornell University, and has spent most of his career as a social worker and an advocate for lesbian, gay, bisexual and transgender youth. A lifelong writer, Andrew has been a contributing writer at The Good Men Project, YA Highway, Reading Teen, Dear Teen Me, La Bloga, and Layers of Thought among other media. Andrew lives in New York City with his partner Genaro and their cat Chloë.
Shelley Ettinger is a longtime activist in the LGBTQ movement, and in anti-racist, anti-war and union struggles. Her poetry and short fiction have been published in many literary journals, including *Nimrod*, *Stone Canoe*, *Mississippi Review*, *Cream City Review*, *Blithe House Quarterly*, and *Lodestar Quarterly*. *Library Journal *called her recently published first novel, *Vera's Will*, "powerful, superbly written," and "a breathtaking achievement."
Tim Fredrick is a short story writer and author of the collection We Regret to Inform You: Stories. His stories have been published in Burningword, Pif Magazine, Wilde Magazine, Em Dash Literary Magazine, and Circa. He is also the founding editor of Newtown Literary, a semiannual literary journal focused on publishing the work of writers from and living in Queens, NY.
Rigoberto González is the author 17 books and the recipient of numerous awards including Guggenheim, NEA and USA Rolón fellowships, and a Lambda Literary Award. He is professor of English at Rutgers-Newark and the recipient of the 2015 Bill Whitehead Award for Lifetime Achievement from the Publishing Triangle.
Host: Nancy Agabian is the author of Princess Freak (Beyond Baroque Books, 2000), a mixed genre collection of poems, short prose, and performance texts on young women's sexuality and rage, and Me as her again: True Stories of an Armenian Daughter (Aunt Lute Books, 2008) a memoir about the influence of her Armenian family's history on her coming-of-age. Me as her again was honored as a Lambda Literary Award finalist for LGBT Nonfiction and shortlisted for a William Saroyan International Prize. Nancy has an MFA in Nonfiction Writing from Columbia University's School of the Arts. She teaches creative writing at Queens College, where she was awarded for excellence in teaching in 2012, and in the Writing Program at the Gallatin School of Individualized Study at New York University. In 2012, she founded Heightening Stories, a series of community-based writing workshops for the personally brave and socially conscious, online and in Jackson Heights, Queens.
The reading will take place at Queens Pride House, a local LGBT community center with programs for teenagers who are coming out, which I think is especially cool. I'll be reading from Banished Sons of Poseidon and signing copies.
Check out the Facebook event page and join by clicking here.
Share on Facebook